Gods dwell amongst us, and have done so since before the dawn of time.

Shh! Can you hear…? The distant sound of footsteps, careful steps, of a creature trying to move stealthily, making the footfalls irregular. But we can spot the subtle pattern of left, right, left right. And the breathing, you hear that too? On the edge of your perception…
Goddesses and gods, walk the world.
Sometimes, we hear them singing. Not with words like those a pop star would use, not Taylor Swift. More, soaring melodies with powerful emotional key changes, free of standard musical motifs like birdsong is free, to move at will between tones, as the breath goes.
Psychedelic Ecology is the field of psychedelic entity study, when entities are regarded as having an existence of their own, treating them as creatures which live in the perceptual experiences of all Life.
Any persona could be viewed as an emergent property of the material base it inhabits. From stone to human, the difference is only one of complexity. Everything can be said to perceive, or rather is aware of the world outside it, according to its abilities. A stone is aware of gravity, of other things resting upon it, of temperature, and reacts accordingly. A human is aware of far more in the immediate world, and has memory and imagination to allow it to time-travel.
Entities which we notice whilst in psychedelic states grow from the abilities they have at such times. We notice what we are able to at such times. Somewhere in this double approach, we might be able to describe their phenomenological reality.
Beginning before the beginning of humankind, entities existed. Eyes need to be noticed, odd movements must be picked out from the background, movement through the outside world has to have an internal construct. We have always carried these hardwired Important Things. Entities, representations of these deep patterns, were already old when that ancient fish dashed away from the glint of awareness in the rippling body of the eel. That tentacular movement, that enormous eye, lived beyond the animal that carried it, and away from the animal that saw it too. All of us, for billions of years, have to know what to look for; and when we look for something whilst tripping, we tend to see it.
With thousands of eyes, tentacles for legs, numerous arms, strange movements… all these parts deeply embedded in our biology, a collection of physicality with deep associations. Many arms do many things, thousands of eyes demonstrate wide awareness, moving unlike a human, demanding our attention. When we cause ourselves to pay attention really, really pay attention, we summon entities. We see eyes in trees, rocks breathe, the mountains and rivers have characters.
Psychedelic states reveal things to us. They lift the veil of interpretation we add to the raw sensations around us. This brings to mind Aldous Huxley's metaphor of our senses acting to restrict input. What Huxley did not know of, is the Default Mode Network.
Briefly, the DMN acts as a running commentary on what is happening in our worlds. It overrides the actual world around us, changes the evidence of the present to suit the past narrative, and generally smooths out any kinks or unexpected glitches we encounter from our easily confused sensory inputs.
Our DMN could be said to contribute to our persona. The patterns that establish themselves, the waves of neurological activity which pass through hemispheres, triggering intellectualisations and emergent noises form our organisms, this is what, who, we are. Take away the DMN and we all resemble each other, reduced to immediate awarenesses, raw sights and sounds overwhelming the past stories we arrived with.
Emotional set becomes our personality whilst we trip (at high enough doses). In good settings, we play, dance, smile, feel good. Past and future, those identical not-nows, cease to have meaning. Sometimes they vanish so convincingly that we forget events, confuse names, release belief from all we knew for sure in ordinary life. If we can relax into this, safe in a space held by those we trust to care for us, the confusion lifts us to flights of imagination and make-believe.
In these psychedelic states, we are open to habitation from the spirits, the entities. They come to us in guises and disguises, speaking to us with still small voices, with thunderous roaring, with telepathic messages that arrive without needing soundwaves. They appear in costumes built from echoes of our expectations, clothed with whatever is to hand; I once asked to meet the spirits of Ayahuasca, who appeared as two cartoon characters, borrowing mice from Speedy Gonzales (a childhood hero of mine). They talked with me for a long time, about the collapse of barren concrete cities, and I talked with them too, trying to describe how to inform Westerners in order to achieve their mission of plants regaining greater importance than human-built creation. (Persuade them, I advised, show them the better alternative, please don't add more fear to the future we are told to see!) They showed me skyscrapers covered with vines.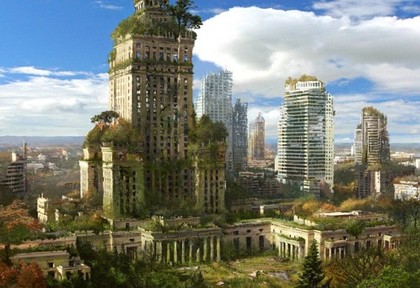 I know that ayahuasca is not two cartoon mice. But the vision was there to allow for my hero worship, coupled with a childlike delight in the overthrow of boring, authoritarian society. The voices matched, high pitched, enthusiastic, fast, full of clever wordplay.
Entities take shape from what we can give them.
They sound like, something else; they sound outside of us.
The challenge we face as a rational bunch of people, who nevertheless clearly encounter otherworldly beings whilst tripping, is how to allow ourselves to believe fully in their existence beyond the limitations of our own perceptions and knowledge base. They tell us things we did not know, and possess qualities and abilities we lack.
Since time began we have tried to make sense of their presence within our minds, their manifestation out of and into nothing, puffs of smoke, mirror creatures that dwell in impossible places, out of time. A popular metaphor of current usage is that of 'another realm', a kind of sideways step dimensional shift to a world separated from our own by some kind of perceptual cloaking screen, through which we (or they) can pass in certain conditions of altered consciousness.
I find this solution unsatisfactory. It reduces these majestic beings, these goddesses and keepers of eternal knowledge to mere equivalencies of ourselves, elves over there instead of here. I want my spirits up close and personal, ever present, not in a side room to physical reality.
They are at once more easily explained, and more powerfully endowed, by open our minds to the possibilities of wider concepts. I'll try to paint a picture…
Hear me now! I am the voice of Pan, echoing across these lands for all of time! I am the movement of the smallest creature that crawls, I am the stirring of a leaf, and the raging storm that fills the sky. I dwell wherever life watches and listens. I am awareness, the prickle of your skin when something approaches. The rise of joy within y0our heart as friends draw near, the flow of smooth skin on skin, the strength felt by muscles as they flex and stretch. I bring to you the eternal now, a moment as old as the world. which lasts for ever. This is the moment in which we can do.
Whether we refer to Pan as a god, an archetype, a personification of an abstract concept, we can allow for his existence in the moment, as a useful way of communicating outside our usual frames of reference. Escaping the reality tunnels of our individuality reveals existence without standard labelling; a semiotic chaos, of undifferentiated ground from which emerge all apparent forms anew, ready for reappraisal.
And we need this reappraisal of Normality so desperately.
Less activity in the DMN correlated to the sense of ego-loss felt by people after being injected with psilocin. Psychedelics also cause an increase in the global traffic between regions, whilst a decrease in local activity, within brain areas dealing with discrete tasks, occurs.
The judging part of us disappears. We process inputs and internal processing at a global level. The functionally discrete parts loosen their boundaries, and we find poetic truths dwelling beneath the surface of what looks like home.
We need, as biological organisms, to differentiate between 'me', 'you', and 'this cup'. How can I pass the cup to you, if those three objects are merely aspects of one substance? That would be stupid.
As soon as deliberate movement became possible, our ancestors needed to know which way was up. Clues as to what lay ahead of them proved incredibly advantageous. Remote sensing became all the rage, back in prehistory, with eyes and vibration sensing apparatus catching on. Upon our heads we bear the latest version of this technology, vibrating air passes through holes originally intended as gill slits, and tiny bones (which evolved from jaw bones, bones for eating) move, minutely, leveraging further membranes attached to the brain's nerve endings.
From these oh so subtle twitches, the neurons of auditory centres cause cascades of chemicals, and some how, these patterned forms make us think we hear.
Reaching forward in time and space, to what lies ahead of us. We must have a plan, a map. We see, we create, a future world which is not yet our present. We can move towards this future over that world, or maybe that future over that other world; we hold multiple worlds, in order to compare the more desirable. These worlds are real, we make them as we make the world of now, from our sensory inputs and our internal processing. We feel them, we feel how they feel, do we want to move towards this world, or away? No time to rationally assess them, we move according to our will and whim.
Our emotional responses to sensory inputs, and our internal processing, have to be prioritised by hardwiring them together.
Be attracted to this!
Move away from that!
The complexity of this and that should not be underestimated; after a few billion years of practice, we are getting quite good at complexity these days.
Wedded for millions of lifetimes, emotions and actions. Unexpected intrusions, which appear as if from nowhere to stand before us plainly upon our world maps, demand a lot of attention. Contrariwise, when we have a lot of attention, we find ourselves confronted with unexpected intrusions, standing in front of us…
These are no phantasms however, nor yet visitors from another physical dimension next door. They exist, they live, as creatures which have inhabited our senses for longer than we have. The voice of the siren luring us onwards. The terrifying noise of silence broken by a footstep where none was before. Shrill shrieks, calling for our notice. The regular breathing of a body sleeping beside us, snuggled together in the dark. Water falling, that most promising sound!
From these ancient strands are woven our entities, combined with the visual clues we might have to hand.
Waterfalls sing to us, notes at first, then words. We hear them clear as day.
Auditory hallucinations, clearly heard sounds, with no external source. I hear them all the time, tinnitus attends my every hour, a faint high-pitched tone as if a tv is left on. Buzzing noises often precede spirit encounters for me, I hear them fly past my ear, just before the magic happens. Have you heard the far away voices, that speak from beneath the ground, from behind the hills, from the sky above? They talk and sing so quietly, yet you perceive every word.
Perceiving other entities as other entities, rather than conceptualising them as 'thought forms' or 'archetypes of the psyche', has huge benefits in the moment of interaction. Our brains are set up to evaluate incredibly complex social evaluations, to assess the motives of others, to recall factors influencing fair division of resources and task allocation. Entities, whether we call them spirits, deities, aliens, elves, animal familiars, genii loci, ghosts, faery, and so on, whatever we categorise them as are best treated as separate actors on the world stage to ourselves. They have an identity wider and deeper than our individual encounters. We represent our species evolutionary past, embodied in this body at this moment, and we hold the programming of our cultural surroundings as the lens through which we can intuit, hear, and see.
Each one of us is far more than 'one of us'. As such, the psychedelic encounter with an entity becomes a meeting in the mythical realm, where we become aware of ways of understanding and acting which we could not have considered beforehand.
Realising that these entities have purpose, history, future existence, and a right to their own world view, places the centre of the discussion outside our self. Outside our species' collective identity. We escape the trap of anthropocentric motives. Given the results of categorical, human centred planning of the past centuries in the dominant world cultures, perhaps this is the most intriguing aspect of meeting otherworldly characters. Just as children come to the astonishing revelation that their parents have a need for happiness, as we mature out of the squabbles of territorial demarcation and fighting over toys, we are learning that we are not the only intelligences which inhabit this planet.
This is not to say there are invisible creatures occupying some kind of parallel dimension to our own, another literal world, which we could reach by stepping through some kind of portal as beloved by so many tv writers of the late 20th century. This particular mythological construct appeals to our childish imaginations, and is very easy to understand, but to my mind diminishes the vastly more rewarding poetic truth I have outlined here, of entities as truly ancient, astonishing collections of perceptual patterns embedded deep within our sensory apparatus, which live in each of us, and which we believe often create what we call paranormal or magical events, whether by information downloads that are impossible to account for by rational means, or even by causing material effects in the world around us (e.g. weather magic). (Most magical traditions explain the magic powers by referring it outwards to an other, a helper spirit, an ancestor. God told me to do it.)
It is worth comparing the view of these commonly held perceptual patterns as entities in their own right, with the way we view other people as entities in their own right. We are happy to attribute personhood to a collection of biological cells, constructed of chemistry, which arose from physics. We are often happy to extend this personhood to animals, or plants (oh, you look sad, would like some water?). Often we relate to places as persons; hello house, nice to be here again! Or events; the figure of father Christmas being the prime example from northern European culture.
Regular engagement with this kind of encounter leads to a more open-minded attitude to the non-psychedelic state. People tend towards a lack of preconception about people, places, and situations. It is likely that this attitude creates the luck with which many psychonauts seem blessed. Richard Wiseman's research on luck strongly indicates that those who look around see more (unsurprisingly!). it is of course possible to cultivate this open mindedness without psychedelics, but they present unavoidable opportunities for us to practise this skill…
Look around you.
NW
Abridged from a presentation at Beyond Psychedelics conference, 21st June 2018, Prague.